Digital Marketing Subscription
Digital Marketing Subscription
Get ALL of your digital marketing work managed for a flat monthly fee.
How It Works
1.

Send us your
Digital Marketing Tasks

You submit digital marketing tasks through our online portal.
2.

Scheduling

We start the work within 1 to 3 days depending on your subscription level.
3.

Drafts and Revisions

Our designer will send drafts and collaborate directly with you through all your revisions
4.

Final Completion

After your final approval, we provide the files and move on to the next task in your queue.
Subscription Pricing
Small Plan
Unlimited Tasks
Unlimited Revisions
Brands up to 2
Dedicated Manager
1 Task at a time
Start-time 1 to 5 bus days
10 Stock images per month
Large Plan
Unlimited Tasks
Unlimited Revisions
Unlimited Brands
Dedicated Manager
2 Tasks at a time
Start-time 1 bus day
20 stock images per month
Fixed Monthly Fee
Make as many requests and revisions as you need.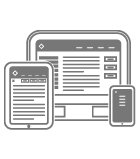 Unique & Stunning Designs
Work directly with our experienced in-house designers.
15 Years in Business
In business for over 15 years with US-based developers and designers.
Personal Collaboration
Live collaboration via Phone, Video or Slack during buisness hours.
Cancel at Any Time
There are no contracts and no cancellation fees. Simply pay month-to-month.
Money-back Guarantee
Cancel your service within 14 days and get a full refund.
"Seed Technologies has created and updated our website from the beginning. They created our original site and when it was time to upgrade and enhance, they were the first people we called. They are professional, creative, and amazing to work with throughout the entire process. I am more than happy with Seed and look forward to working with them again in the future."
Zach Taylor, Director of Marketing / Brainerd Chemical
"Seed Technologies has done an excellent job at meeting our needs for website design, logo design, and search engine optimization. They have become a true partner for us and they have provided great guidance for our online presence as well as online marketing. Our new site not only looks more professional, but also delivers new leads and new functionality. I couldn't have asked for a better solution! We have thoroughly enjoyed working with their staff and we look forward to our continued partnership with Seed Technologies."
Eric Kehmeier, President / Integrated Business Technologies
"From our very first contact with Seed Technologies to our final website launch, we found Seed provided an outstanding service and is an excellent company to work with. Every question was answered quickly and they went above and beyond what we asked of them. The websites they designed and launched for us are exactly what we want and their service made every step of the process simple. I would recommend Seed Technologies to any company wishing to create or update their website!"
Bob Barnett, Network Administrator / ADDvantage Technologies Group, Inc.