Our Leadership
What makes Seed Technologies truly unique is our team of creative and passionate professionals that work together as a unit to deliver cost-effective solutions that generate financial returns. The cohesion from years our leadership has in working together is what makes our team so effective. Our development solutions have proven to generate returns for our clients and as a result, we have built our brand around the idea of helping businesses grow.
Jennifer Jones
President and CEO
Jennifer is an entrepreneur and technology solution provider with decades of experience in the web development industry. Her primary background is software development for both commercial software applications and custom programming solutions over a wide variety of markets. She has assisted over 1,000 companies in the development of solutions involving accounting, e-commerce, engineering, manufacturing systems, social media and other commercial software systems. Thanks to a strong business and accounting background, Jennifer has the ability to quickly formulate algorithms to automate businesses processes from the top down. She has used that strength to build Seed Technologies, Inc. from its "seed-sized" beginning to its current success.
In 2004, Jennifer applied the classic programmer "I can build it" approach and formed Seed Technologies, Inc. She originally was the sole programmer at the time the company was formed and managed to grow the company to several employees before the end of the first year. Now, Seed Technologies is one of the largest and oldest development firms in Oklahoma with a commitment on hiring locally and contributing to the local community.
Perry Mulay
Chief Operating Officer
Almost every project delivered by Seed Technologies will involve Perry, who serves as our primary coordinator and liaison between our customers and development team. He has a background in art and 3D animation as well as a degree in computer multi-media design from Illinois Central College. Perry originally began working at the company as a web developer and moved up through the ranks, mostly due to his organization and attention to detail. Today, he serves as our Chief Operating Officer responsible for the scheduling and task management of all development teams with the primary focus on delivering every solution on time and under budget.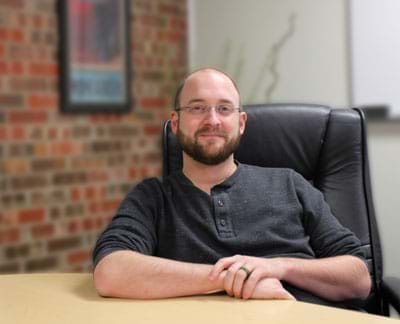 Darin Biggs
Director of Interface Development
Although Darin began actually began developing websites at the age of seventeen, he also achieved a degree in computer science and multi-media web development from Oklahoma State University. As Director of Interface Development, Darin is supervisor over all web developers and oversees the development of all web interfaces ranging from mobile responsive websites to advanced software interfaces. Born and raised in Oklahoma, most of Darin's time outside of work is spent with his wife and two adorable kids, playing video games, hunting, fishing and other outdoors activities.
Sean Brown
Director of Software Development
Although Sean originally studied physics in college, he has clocked tens-of-thousands of hours over the last ten years writing code and is one of the most talented software engineers in this industry. While his primary responsibility is to supervise our software development department, he still contributes as a programmer in many of the projects and has delivered over 400+ software solutions during his tenure at Seed.
Daniel Webb
Director of Art
With a background in computer animation and a minor in graphics design from the Art Center Design College, Daniel's contribution to our team is to oversee the graphic design department developing the artwork used in all websites and software interfaces. Although Daniel has extensive experience in graphic art and logo design, he has also served as a senior web developer at Seed Technologies for nearly a decade and understands how to combine modern art within the boundaries of HTML and CSS.
A Little "Dirt" About Us.